Wednesday, September 12th
Scroll down to see my experiences with days one and two of the sale!
9:00 am: Let's talk about Lilly's line for men and boys. I saw a ton of friends post photos in matching Lilly for the whole family this year, and now is a great time to stock up!
Here's the Men's Beaumont Short, on sale for $34 and the Boy's Beaumont Short on sale for $24!
You can also get swim trunks! [Update: it looks like all of the ties and handkerchiefs are now sold out!]
11:00 am: I always focus on accessories and home decor on Day Three, and today is no exception. Lilly's got some great bags still in stock, like this Cape Cod tote, now under $50, the Baja Tote, and the Fiji Fringe Beach Clutch.
There's also plenty of scarves to keep you warm as the weather starts to cool down, like the Resort Scarf (love those tassels), Lana Scarf (shown here in the ultra-elegant "Tidal Wave"), and the Resort Infinity Loop.
Let me know if there's any specific pieces you guys are looking for!
12:00 pm: I'm going to do a roundup of all of the things I purchased during the sale, and then sign off for the day!
UPF 50+ Skipper Printed Popover in Resort White On A Roll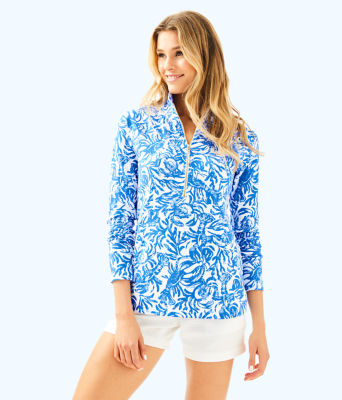 Mila Shift Dress in Light Pascha Pink Aquadesiac Engineered
Harper Dress in Resort White Drop In Engineered
Fiesta Stretch Dress in Nauti Navy Beyond The Sea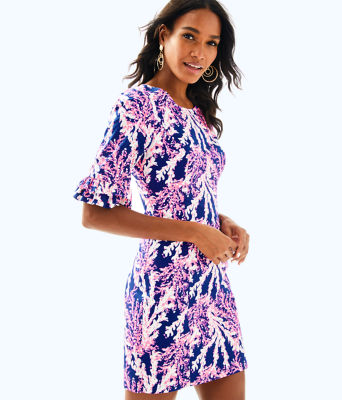 UPF 50+ Captain Popover in Lilac Verbena Pop Up Coco Safari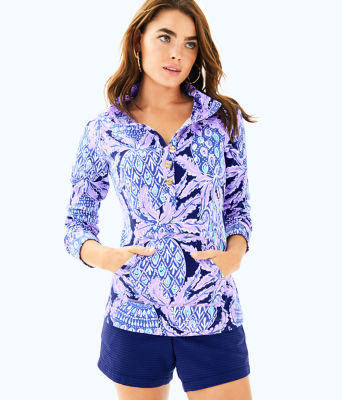 UPF 50+ Sophie Dress in Deep Indigo Joy Ride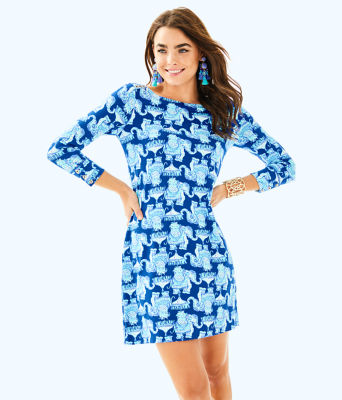 Blaine Tunic Sweater in Beckon Blue
UPF 50+ Skipper Tunic Popover in True Navy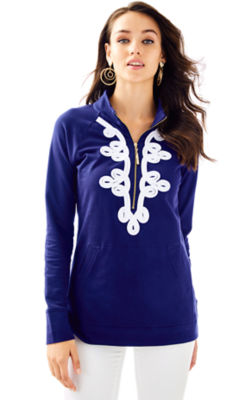 5″ Callahan Stretch Sateen Short in Bright Navy Alpaca My Bags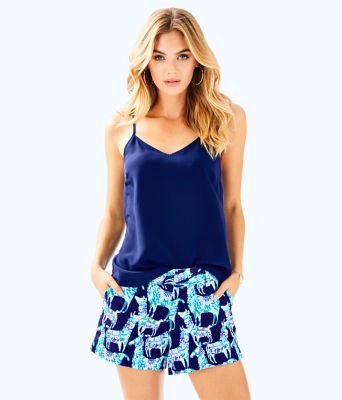 5″ Callahan Short in Pascha Pink Feelin Beachy
Tuesday, September 11th
Scroll down to see all of the deets from day one of the sale!
9:00 am: Good morning After Party Sale devotees! Hope you slept well and dreamt of all of the things pink and printed. Didn't get the chance to pick stuff up yesterday? That's okay! There's still a ton of Lilly deals available! This morning I'm checking out activewear.
10:00 am: All of Lilly's leggings are on sale right now for under $60; most are under $50! That's 50% off of their regular price! I have a Luxletic tank that I bought during last year's sale that I wear all the time, not just to work out; the peach color is on sale for $19 right now. Honestly, the activewear section of the sale is just a great place to find basic tees and tanks!
11:00 am: Day Two is my scrolling through all of the deals day, and I found some really cute zipper pulls and patches for the Popovers to make them unique! I particularly like the sandollar patch and matching zipper pull, and the seahorse patch. I love this idea as a preppy way to style patches! It would be so cute to do a DIY Popover Party with friends!
1:00 pm: To be honest, I'm shocked that there's no wait on the website when there's still this much stuff in stock. There's a ton of dresses left on sale in my size, and I just found some Willa tunic tops (which I actually prefer to the Elsa!)
5:00 pm: Have you checked out Lilly's UPF line? I'm a girl that's serious about sun protection, so anything that my clothes can do to help as an added layer is a bonus. They've got everything from tanks to dresses to leggings with UPF 50+! They also have pieces for girls, so you know that your loved ones are protected too!
7:00 pm: That's all for Day Two! I hope you guys snagged some good deals in your size!
Monday, September 10th
7:00 am: Morning Lilly Lovers! I'm up and at 'em at 7:00 this morning to prep for the After Party Sale. My S.O. was concerned that something was wrong when I got up, sans coffee, and immediately hopped in the shower, if that tells you what my mornings are usually like. What are you guys shopping for today?
7:30 am: Looking up other bloggers' recs for the Sale. I particularly liked Kate at Lonestar Southern's try-on post. This time around, I've got my eye on some Mila shifts, a new popover, the short-sleeved Marlowe dress, and a couple of Harper shifts.
8:00 am: REFRESH REFRESH REFRESH. My phone gets into the queue first, followed by my laptop, and then my ancient desktop. Over an hour wait on all 3 devices. It's totally normal, and I'll use this time to finalize my wishlist.
9:30 am: I've got a thirty minute wait time and I am prepared with my wishlist in hand. I am so incredibly grateful to Evan and my roommate, Violet, for supporting me today.
9:45 am: I got in to the sale earlier than estimated and nabbed a Mila Shift and Popover (my two top-priority wishlist items). Put back in the line on my phone and now I'm 110,035th. Glad I'm using multiple devices and I'll be back in the sale in ~10 minutes on the laptop!
10:15 am: A site glitch let me back into the site right after purchasing without putting me at the back of the line. Not complaining, but I hope I didn't grab someone else's spot! Y'all, this year's sale is PACKED. I have been using filters to help me narrow it down to items I really want, but you could easily spend two hours going through all of the sale inventory. Some of my wishlist items are already sold out, so go shop now!
11:30 am: I feel like this is the Target of sales; I go in for a couple of things and leave with a cart full! I've been lather-rinse-repeating my process of buying 1-2 items and checking out. You can read more about the strategy here. I am (shamefully) $11 over my first day budget already, so I'll window shop for the rest of the day and send you guys updates about what's still in stock!
12:00 pm: Been hearing from some friends and Twitter users that the site's been glitchy (i.e., they go to check out and get put at the back of the line, or the site doesn't show up completely). My mom reported that the site kept returning to the top and not letting her check out. Have you had any problems?
2:00 pm: If you guys are looking for some classic Lilly dresses, there are still a ton of Mila and Harper shifts in stock. I have a Harper dress that I absolutely love. Both options are great for dressing up or dressing down and I can't recommend them enough. I grabbed a few Popovers today as well, because weather in New England means layers, layers, layers. They have girls' popovers too, which make great gifts for the little Lilly lovers in your life. If you're a fan of the Elsa tops, there are so many included in the sale! Solid Callahan shorts are under $30, and prints are under $40! Is there anything you guys have to have during the sale? For me it's the Marlowe dress. Every Marlowe is included in the sale and under $50!
5:00 pm: Still looks like there's a ton of cute rompers and jumpsuits available in the sale. There's a romper version of one of this year's most popular Lilly dresses that's normally $218 on sale for $69! If you want the a dressier outfit with the comfort and ease of a romper, I would totally suggest checking out the Donna line.
7:00 pm: Signing off for tonight, but see you bright and early tomorrow for some more deals! What did you guys snag today?